Lake Fill to Begin March 1
The Spring fill of Lake Tapps will begin on Sunday, March 1. This is to allow Pierce County to finish upgrading its bulkhead and improving park amenities at North Tapps Park. Cascade is working closely with Pierce County as it completes the project. Cascade does not anticipate any delay in reaching the agreed upon reservoir level of 541.5 feet by April 15.
As a reminder, residents who wish to do any work on their property, bulkheads, docks, etc. must obtain all the appropriate, required permits and a Cascade license prior to beginning any work. Further, residents should keep in mind as they do work on their property, especially bulkheads, that Cascade has the authority to raise reservoir levels to elevation 543 feet under current water rights, so any new or modified bulkheads should be built to at least elevation 544 feet. Cascade raises the reservoir to 543 feet once a year for a day or so as a reminder.
For more information about Cascade and Lake Tapps visit www.cascadewater.org and for information regarding licenses for project work, please visit
https://cascadewater.org/lake￾tapps/licenses-permits/For more information on the Pierce County North Lake Tapps Park project, please visit
https://www.co.pierce.wa.us/6…/North-Lake-Tapps-Park-Improvements
---
START PLANNING! ONLY A FEW MONTHS TO GO UNTIL
THE ABSOLUTELY FANTASTICALLY FUN
THIRD ANNUAL LAKE TAPPS BOAT PARADE!!!!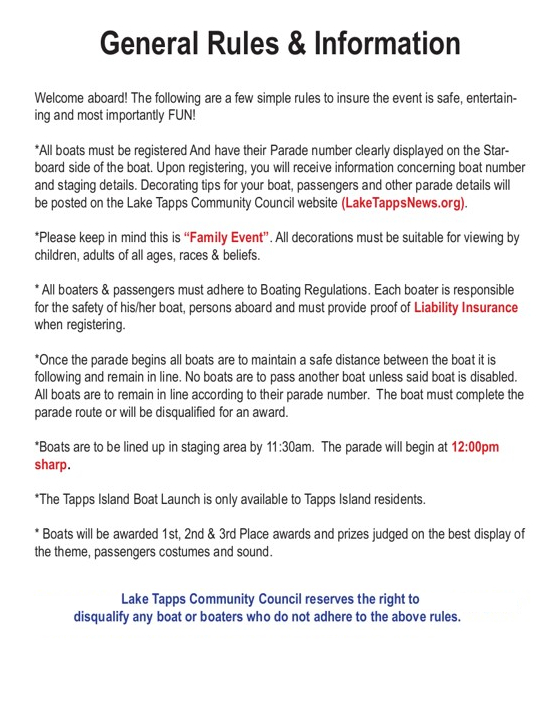 ---